ABOUT US
COMPANY PROFILE

The professional choice for professional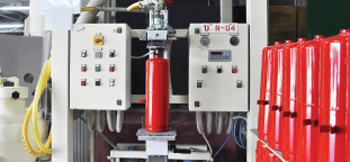 Green Cross Safety Co., Ltd. was established in 1990 with a registered capital of 5 million baht. Our main business is manufacturing and sales of multi-purpose portable fire extinguishers under the brands "FIREMAN", "FIREMAN PRO", "XPERT" and "BOSS". We are also OEM manufacturer for more than 100 fire extinguisher brands in Thailand. Our services include provision of fire extinguishers and related fire equipment as well as fire extinguisher refill and parts replacements.
Our fire extinguishers are manufactured from high standard factory situated in Prapradaeng, Samut-Prakan, using state-of-the-art machinery and raw materials, both imported and locally sourced, that meet required standards.
To ensure the safety and security of our customers, we are committed to paying attention to every step in manufacturing our products. Our wide range of products is suitable for both household and industrial usage.
Our dry chemical fire extinguishers meet the National Standard (TIS 332-2537), accredited by the Thai Industrial Standards Institute.
At present, the factory's manufacturing capacity is approximately 224,000 fire extinguishers per year.
We also pride ourselves on our exceptional customer service, focusing on professional service by knowledgeable team and punctuality in product delivery. Our customers can rest assured of our one-stop service where parts and chemical supplies are readily available.
We constantly create innovative ideas and develop our products to meet the needs and expectations of our customers.
Green Cross Safety Co., Ltd. is ISO9001:2015 certified.